The Iren Group is active throughout Italy, with a greater concentration of customers in the central-northern areas. Iren operates in the network services business area through managing, renovating and developing energy and water distribution networks.
Iren manages the electricity distribution network plants in the Municipality of Parma, the City of Turin - as well as some sections of network in some Municipalities in the metropolitan area and Valle Dora - and the Municipality of Vercelli. 
In Turin, electricity distribution is carried out by Ireti. With its 4,744 km of grid, the electricity distributed to 565,833 end customers amounts to 2,600 GWh. 
In Parma, electricity distribution is carried out by Ireti. With its 2,558 km of grid, the electricity distributed amounts to 897 GWh and reaches 129,842 end customers. 
In Vercelli, distribution is entrusted to ASM Vercelli. With its 548 km of grid, the electricity distributed in the city is 183 GWh and reaches 28,983 citizens.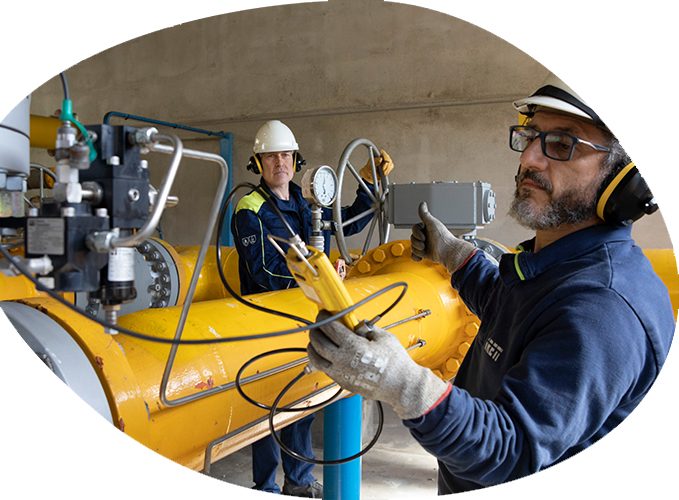 The Group's distribution service consists in the withdrawal of natural gas from Snam Rete Gas pipelines and transportation, through local gas pipeline networks for delivery to our homes and businesses. The 8,157 km network distributes natural gas and liquefied petroleum gas (LPG) to 741,536 customers nationwide in Liguria, Emilia-Romagna and Piedmont.
In Liguria, the gas distributed through 1,701 km of network is 366 Mm³ and reaches 315,091 customers.
In Emilia, gas reaches 398,917 customers, is distributed through 6,121 km of network and is equal to 931 Mm³.
In Piedmont, 51 Mm³ of gas is distributed across 335 km to reach 27,528 customers.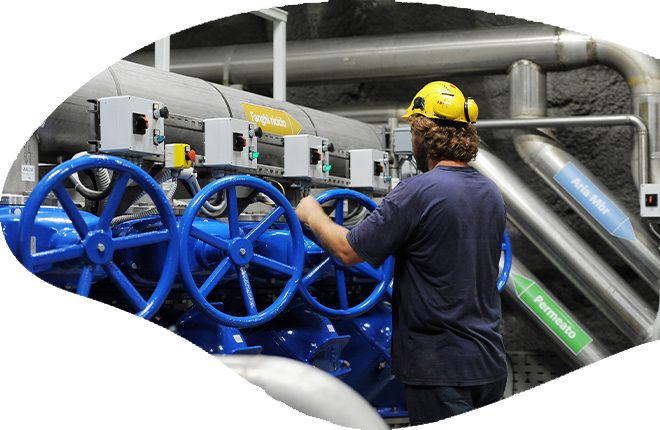 With approximately 20,000 km of aqueduct networks, 11,291 km of sewerage networks and 1,337 purification plants, Iren is one of the most important Italian operators in the integrated water services sector. Through several operating companies, it serves 2,748,268 citizens in 328 municipalities, standing out as the 3rd largest operator in Italy in the water services sector by number of cubic metres managed.
The integrated water service is managed in the provinces of: La Spezia, Genoa, Imperia, Savona, Parma, Piacenza, Reggio Emilia, Vercelli and other provinces in northern Italy. 
The Group, through the company Iren Energia, provides the service of marketing heat for district heating through its own cogeneration plants and transport networks.
The combined production of electricity and heat makes it possible to develop the district heating service in a logic of circular use of resources and reduce environmental impacts.
With a volume of over 73 Mm³, Turin has a district heating network of 726 km and reaches 489,129 inhabitants.
The Reggio Emilia district heating system consists of a 221 km network, in Parma it extends for 104 km and in Piacenza the district heating network extends 30 km.
With a volume of 3.7 Mm³, the total number of inhabitants reached in Genoa is 8,046.
Electricity Gas and Services
Iren allows you to find the best electricity offer, the one that fits your daily habits and those of the people living with you. 
Everything you need to know about the Iren Group's district heating service that produces and supplies customers with thermal energy in an efficient and sustainable way.
Are you a customer with a supply contract or would you like to activate one? We are here to help you, solve your doubts and answer your questions.
What is IRETI and what does it do?
IRETI is the company of the Iren Group that manages the distribution of electricity, gas and water in an integrated and capillary manner throughout the country, striving every day with competence and professionalism to offer its customers efficiency, effectiveness, cost-effectiveness and high quality services, while fully respecting the environment and the safety of workers and citizens.
How can I report self-readings or request the replacement of the electricity metering unit?
For customers whose supplies are equipped with an electromechanical meter, it is possible to report self-readings or request the replacement of the electricity meter by contacting the toll-free number 800 010 573. For customers whose supplies are equipped with an electronic meter, there is the smart POD portal through which it is possible, after registration, to communicate self-readings and view the metering data communicated by IRETI to the Sales Companies and, in the case of producers, to GSE/Terna.
How can I apply for connection to the gas network?
The quote request for network connection follows different procedures depending on the territory: consult the section to find out all the information you need.